Boone Grove Post Office
Boone Grove Indiana 46302
This has turned into a real mess for office hours. The first couple of months they had late afternoon hours and now they changed it to 2 hours in the early morning. If you don't mail your stuff early, it goes the next day. I'm not really sure you can call this service. Lets just run it like a business and have it open most of the day. That is when you sale retail. I am sure people are going to other offices to do their business and that only hurts the Boone Grove office more. Just another tactic for them to close "our" office. Mr. Conwell had moved on and up in the P O. No surprise. Make changes and move out so the people remaining deal with it. These are my opinions but I'm not alone.
Well the verdict is in, the office will be staying open for 2 hours a day. Saturday will remain the same but Mon-Fri 2:00 pm to 4:00 pm. Attached is a handout they gave us at the Nov. 14th meeting at the church. David Conwell explained to us that it was a done deal and this is just an informational meeting and stated "it is what it is". The number of customer surveys mailed were 24 but 77 surveys were submitted. I personally believe this is the beginning of the end for the Boone Grove Post Office and in general the end of the Postal Service all together. The attendance was few with 8 postal customers present. But as Conwell told us, it doesn't make any difference. They need more revenue to warrant the office to stay open with full hours. Handout is listed below.
Click to view handout from 11.14.12
Survey sent by P O about changing office or closing office.
Proposed closing of this office.
A meeting was held December 14th 2011 at the Boone Grove Fire Department 319 W 550 S at 5 pm.
A special thanks to the Fire Department and their members for setting up for this meeting and all the help they give to this community.
Also a thanks goes out to Ed Morales for input in this meeting.
There were 16 people in attendance excluding the Postal Delegates.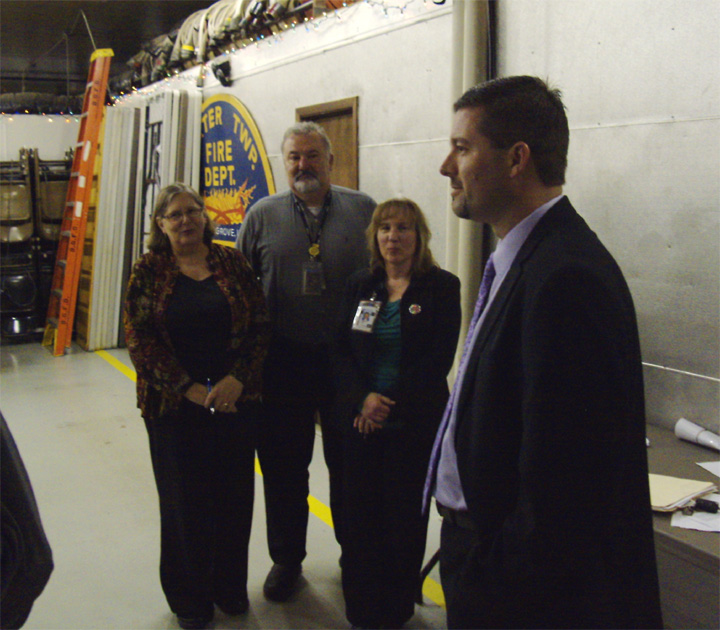 The postal delegates shown in picture from right to left are David Conwell manager of postal operations, Roberta Price Boone Grove Postmaster, David Dew Westville Postmaster and Sandy Norris DeMotte Postmaster.
David Conwell explained that the postal service is losing money and they must trim retail offices and personnel to maintain service as the Postal Service does NOT receive government monies for operations. Since 2007, the Boone Grove office revenues have fallen. He understands about a neighborhood gathering place but it is not cost effective for the Postal Service. He also explained that his information will be sent to headquarters for final decision. We have a choice of central location of outside Postal boxes or end of driveway mailboxes. This would be a majority vote for one or the other. He further explained that the money losses for the last several years except this year were, due to the high price on paying ahead on retirements that no other company faces. Retirement on people not even born yet. A cost of 5 billion a year to the Post Office. "That's 5 billion" He said we could maintain our Boone Grove physical addresses but not with the P O Box. One year would be given for all the change of addresses to be made with the deletion of the old box number to the street address. There was also a mandate that no Post Offices will be closed until May 15th 2012.
I gave a short history lesson on the Boone Grove Post Office as follows:
Boone Grove was established in 1843
Main St was located on 450 s between 200 w and 250 W
Enoch Jones was postmaster 1867 at his home at 202 W 450 S, House still there
In 1881 The Chicago and Atlantic RR came through so the town moved to present day
Jefferson Woods was postmaster in 1883 located in a hardware store just south of the tracks
Between 1883 to 1920 the postmaster were Jefferson woods, Hiram Wells, Melvin Foltz, back to
JB woods, then to Frederick Wittenberg then back to JB Woods and finally to Alfred Wittenberg
Fredericks son.
From 1920 to 1949 Albert Frederick Wittenberg was postmaster.
1949 Crawford Baker was postmaster until 1959, building had no water or phone. Outhouse
Between 1959 to 1971 the following were postmasters, Marshall Baker, David Stanley and Vernon Lawrence.
William Roeske was postmaster from 1971 to 1986, during that time the post
office moved to the current location.
Rachel Stanley was postmaster and Roberta is currently postmaster.
In closing, I hope this information was close to accurate. Personally, I would prefer the office remain open as it is good for the community as a whole.